WACO LANDSCAPING SERVICES
If you are looking for residential or commercial landscape services, Fitzgerald's can assist you with all your landscaping needs.
As a premier landscape and lawn care company in Waco and surrounding areas, Fitzgerald's offers a one-stop shop for all areas of landscaping like the maintenance of lawns and landscapes, design, installation, etc. We provide all these services at affordable rates.
Fitzgerald's not only takes care of your lawn and landscaping but also you. We have been a family-owned and operated business for over 18 years, and we've helped many customers realize their property's true potential.
We have an experienced and dedicated staff who knows what you deserve. They work with you on a one-to-one basis to ensure that you receive the expected services and to build long term relationship with our company.
Our Services
Design and Installation of Landscape
We offer the complete design and installation of your landscape, and we're proud to provide landscape design services that will keep your home and business looking attractive all year round. Our services include residential and commercial design and installation to give a unique look to your property.
Before starting the work, we consider all aspects of your residential or commercial property, including cultivation of the soil, the most optimum plant selection, and the position of plants and trees. Our team has extensive knowledge of a variety of plants to help guide you in the right direction.
Every job is different and we create a landscape design based on your unique property needs. Our designers and horticulturists also consider seasonal interest, select year-round color, and grow plants that attract local birds and butterflies. We use native plants to minimize maintenance and promote ecological landscape.
Landscape Maintenance
The essential factor in maintaining any landscape is regular maintenance. Fitzgerald's has a professional and trained staff who work efficiently to maintain the natural beauty of your landscape. We offer a complete range of maintenance from a single consultation to weekly visits throughout the season.
Whether you need landscape service for your home or a commercial property, we assure you will take pleasure in your adequately maintained environment. Our maintenance services consist of installation or replacement of landscape foliage, clean edging of lawns, mulching, weeding, fertilizing, and transplanting.
Fitzgerald's Landscaping & Lawn Care
If you need any landscaping services, contact us today! Our team aims to bring nothing less than the best possible landscaping services. No task is too big or small for us to tackle and we take every project with the utmost professionalism. If you need our landscaping services in your area, contact Fitzgerald's today!
LAWN MAINTENANCE
We provide incredible commercial and residential lawn maintenance services for our clients throughout Waco, Texas and surrounding cities. We take different approaches for lawn maintenance for commercial and residential applications, but one thing rings true, support is the key to keeping your lawn looking it's best and staying healthy. We have a keen eye for recognizing issues in your landscape and remedying it as soon as possible.
Upkeep Goes a Long Way
Trimming and pruning help maintain and improve the overall health of your lawn. When we first survey the property, we'll outline a program encompassing complete services including weekly weeding, trimming, and pruning of your shrubs and various plants. We customize our services to your needs because we know that not everyone needs the same attention.
From a small residential yard to acres of commercial property, we have the equipment to get your lawn in tip-top shape. Regardless of the season, we will take every measure to ensure that your garden is in pristine condition all year-round. Trimming and pruning are imperative factors to keeping the health of your trees in the best shape all the time! Regardless of the time of year, the proper lawn maintenance team will keep everything green for years to come!
Pruning adds so many benefits to your property. We use a different variety of pruning methods, including selective pruning, corrective pruning, trimming, and shaping to maintain or improve the health, appearance, and beauty of trees. Pruning is an excellent way to preserve your trees for an extended period.
Services We Provide
Trimming & Pruning
Cleaning Out Gutters & Waterscapes
Power-Washing
Mowing
Shredding
Edging
Aside from lawn maintenance, we also offer landscape design, irrigation, and tree services. For anything your yard needs and you want, we're the team to call. Our company has sprouted from being a single-person venture into a well-rounded, experienced team that prides itself on providing full-services for clients! For more information on our services, please give us a call at (254) 744-6489.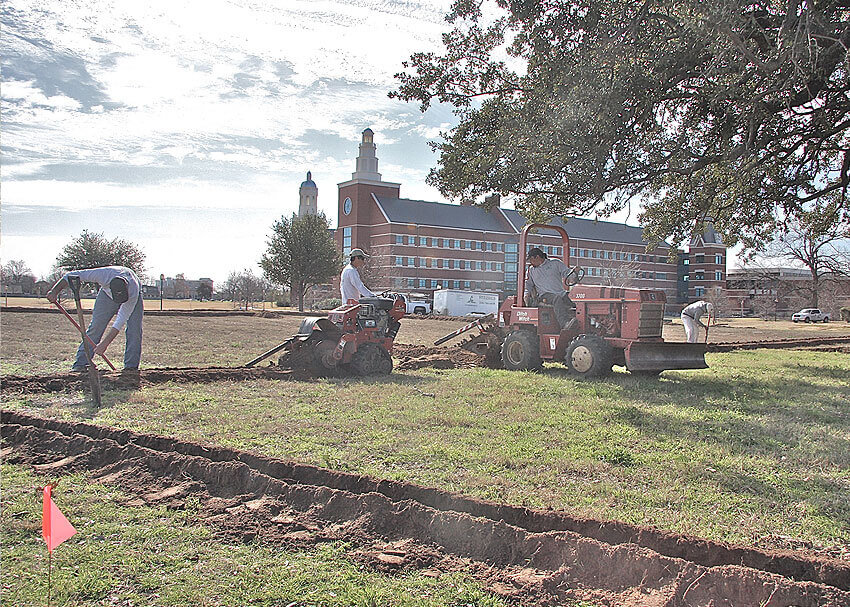 IRRIGATION
We've devoted hours of our time to keeping in line with irrigation services in Texas. Although gardening hoses with scheduled operating times is a reliable traditional method, a brand-new irrigation system is a great alternative that will not only save money but will also cut down on time and the amount of water used.
We can design and install the most suited irrigation system to meet the needs of your trees and respective lawn. We also offer custom fertilization services to feed your trees. We use top-quality fertilizers combined with expert application techniques to ensure the health, safety, and beauty of your landscape.
Our team stays in touch with the advancements that are constantly made within the industry by attending classes, seminars, and putting everything into practice before we utilize it on the yards of our loyal clients. Everything from installation to repair is done by our team and we take pride in our capabilities for irrigation all throughout Waco, Texas.
The qualification for an irrigation system is based on several factors including inconsistent weather, the capacity for water absorption in your yard, the water deficit allowed, etc. Supply an adequate amount of water at all times with an irrigation system in place. The proper maintenance plan will keep it running smoothly for years to come.
Fitzgerald's Irrigation
Our team will take a look at your lawn and decide what approach will be the best for you and your lawn. Not only do we install systems, but we also repair them so our clients can have a one-stop shop for all of their irrigation needs.
We are here to make your yard more attractive and colorful than ever before. Our experienced lawn and yard care arborists know how to maintain your grounds throughout the seasons, making sure to protect your investment so you can enjoy your outdoor area all year long. Some of our services include Xeriscape design and maintenance, Ornamental care, Bed Weeding, and Turf management.
For more information on our services, please give us a call at (254) 744-6489.
TREE SERVICES IN WACO
Our licensed and certified arborists are ready to review and inspect your trees for any possible services they may need including pruning, trimming, treatment, fertilization, and more. We have the equipment needed to tackle any job that is presented to our tree division. We will do everything we can to care for your high-risk trees.
Various Tree Services We Provide
Pruning
The process of pruning can be quite hazardous but it's essential for maintaining the health of your trees. You may have an infected tree that is at risk of dying but could be saved with proper pruning tactics. With preventative or corrective pruning and shaping, the structure of your trees will be improved and reduce the chance of damage in the future.
Trimming
Our trimmers have been working with us for over 6 years and have acquired even more experience. Trimming is vital to preventing the spread of tree diseases and relieving stressed trees for ultimate preservation.
We don't just cut your trees and keep everything moving, our goal is to make sure that when we do move on to another job, your trees are still thriving. All of our equipment is sterilized before we perform any services to assure that no tree diseases will infect the next properties nature life.
Tree Removal
Whether hazardous or non-hazardous, tree removal is necessary to perform periodically for several reasons:
Dead or Dying Trees
Crowding
Obstruction
Replacement
In Close Proximity to New Construction or a Powerline
Fitzgerald's Tree Services
Our team will stop at nothing to ensure that your trees and landscape are thoroughly cared for from start to finish. We've created an entire division to care for our client's tree services. We are insured for your ultimate protection, and ready to get started! For more information on our tree services and other amenities we offer, please call us at (254) 744-6489.